Videos:
Electronic Health Record (EHR)
EHR
Usability Challenges
The first three video sections on this page show EHR usability issues clinicians face on a regular basis, followed by the related patient safety hazards and improvement opportunities. The examples focus on challenges with three basic usability concepts: data entry, visual display, and workflow support.
The videos all include or relate to footage our team obtained from January to March 2017 while researching the usability of Cerner and Epic EHR systems after they had been implemented and customized by four different hospitals. All videos contain fictitious patient data.
The videos under each category are representations of the wide variability in usability across different EHRs, as well as the challenges observed while using the EHRs in practice. Some videos are screen recordings of an actual EHR and contain gray, yellow, and red markings tracking participants' actions. Other videos are fictional representations of an EHR that demonstrate the usability challenges observed during the study.
The last set of videos on this page represents functionalities aimed at improving the usability experience.
Difficult Data Entry
The process for entering information into EHRs is sometimes not intuitive, too rigid, and requires unnecessary extra work by clinicians.
See what we mean in these videos.

More context about why this matters—and what we should work toward:
Potential patient safety hazards may include:

Medication dosing errors:

When ordering a medication clinicians may enter the wrong dose, resulting in the patient receiving an over or under dose.

Confusing patient instructions:

When clinicians are entering information for the patient to follow, the space and format may be limited, and this may result in confusing patient instructions.

Wrong imaging site errors: When ordering imaging tests, such as an X-ray, clinicians may enter the wrong side or body part to be imaged, resulting in unnecessary radiation to the patient.
Potential improvements can include:

Data should be entered in a way that matches how clinicians think about the information being entered.

Most computations should be done by the computer and verified by clinicians, in order to reduce cognitive burden and the likelihood of error.

The data entry process should be forgiving of common mistakes like misspelling words.
Challenging Visual Display
EHRs' display of information can be cluttered and confusing, making it difficult for clinicians to interpret information.
See what we mean in these videos.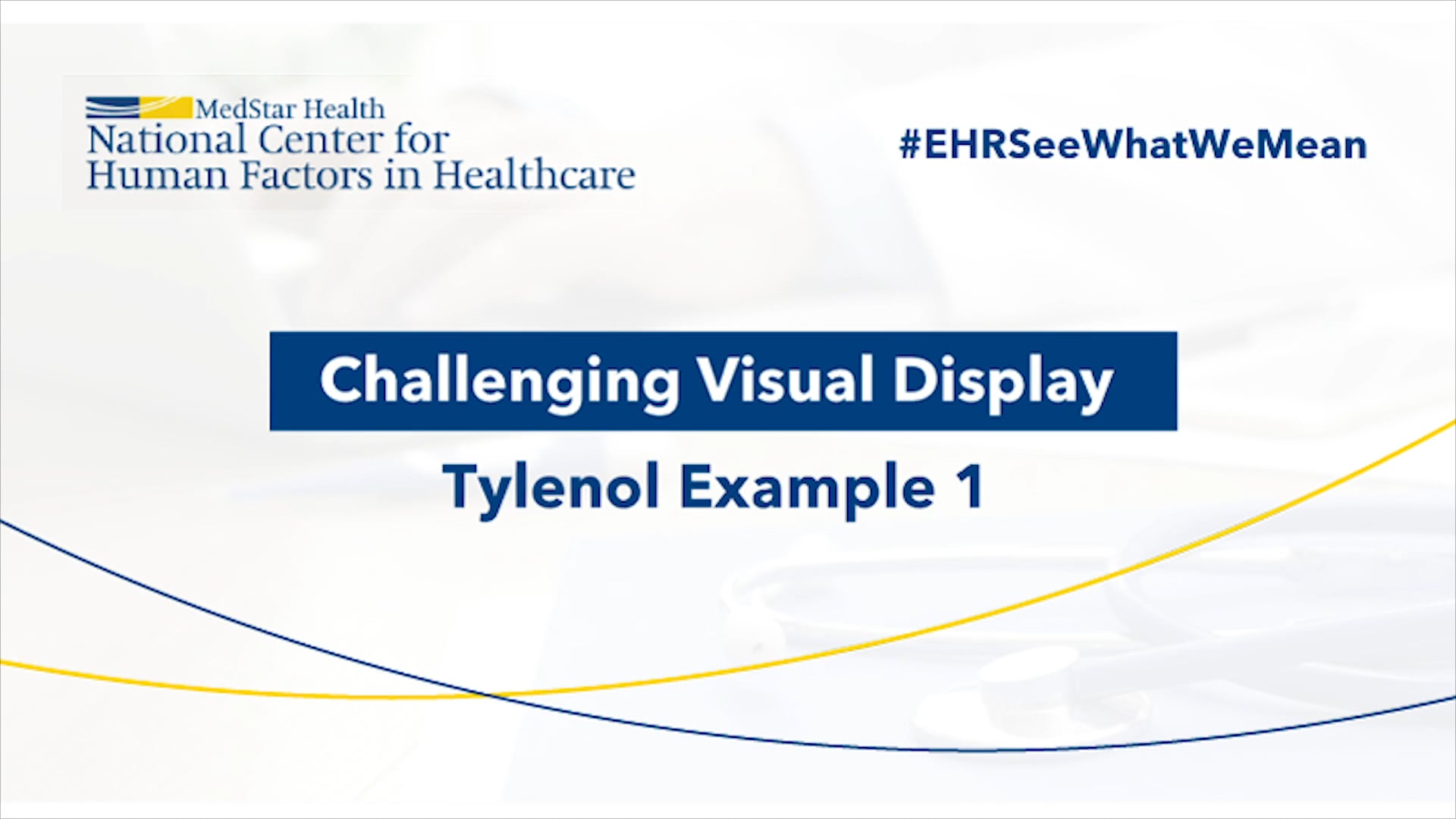 02:40
More context about why this matters—and what we should work toward:
Potential patient safety hazards may include:

Wrong medication errors:

Clinicians may select the wrong medication from a complex list that contains many irrelevant options, resulting in a patient receiving an incorrect medication.

Wrong patient errors:

Clinicians may select the wrong patient from their list, resulting in any procedure, lab, or other order going to an unintended patient.

Diagnosis errors: Clinicians may not be able to see critical results that have come back from a lab test, resulting in the patient being misdiagnosed.
Complicated Workflow
The EHR workflow often does not match the way clinicians think and typically do their work.
See what we mean in these videos.

More context about why this matters—and what we should work toward:
Potential patient safety hazards may include:

 

Missed imaging tests:

When clinicians have to place multiple orders at once (e.g., ordering an x-ray of the forearm and elbow), the clinician may miss one body part.

Missed medications:

When clinicians order medications to be given at a later date (e.g., pain medication after a patient has surgery), the EHR may place the order in an "inactive" state until the clinician manually activates it closer to the time the medication is needed.

Missed nurse instructions: Physicians' medication orders might include information about when to administer drugs in a special instructions field, but these details can be hidden in nurses' view of the EHR. 
Stakeholders Working Together
As you have seen in the footage above, EHR systems are complicated. The technology is shaped by the way EHR vendors design and develop it, as well as how vendors and healthcare providers customize and implement the systems. This means every EHR system in use may be different—and we need a minimum standard of safety across all of them. By working together, we can advance EHR safety, usability, and transparency.
To support this cause, Cerner shared its model experience displaying the latest functionality aimed at improving the clinician experience with EHRs.
Cerner copyright information: The following copyright information applies to the EHR interface shown in the listed video excerpts: © 2015 Cerner Corporation. Cerner Millennium version 2015.1. All rights reserved.
• Data Entry section: Norepinephrine (00:50-1:51)
• Visual Display section: Tylenol Example 1 (00:59-2:09) and Prednisone Example (00:44-1:19)
• Workflow section: MRI Example 1 (1:14-2:44) and MRI Example 3 (1:10-2:25)
All videos in the Stakeholders section contain the relevant Cerner copyright information.
Disclaimer: All of the video content on this website is provided for educational and informational purposes only. It does not imply and is not intended as a promotion or endorsement by the American Medical Association ("AMA") of any third party organization, product, or service. The opinions expressed do not necessarily represent those of the AMA.