Electronic Health Record

(EHR)
EHR
Safety and Usability
See What We Mean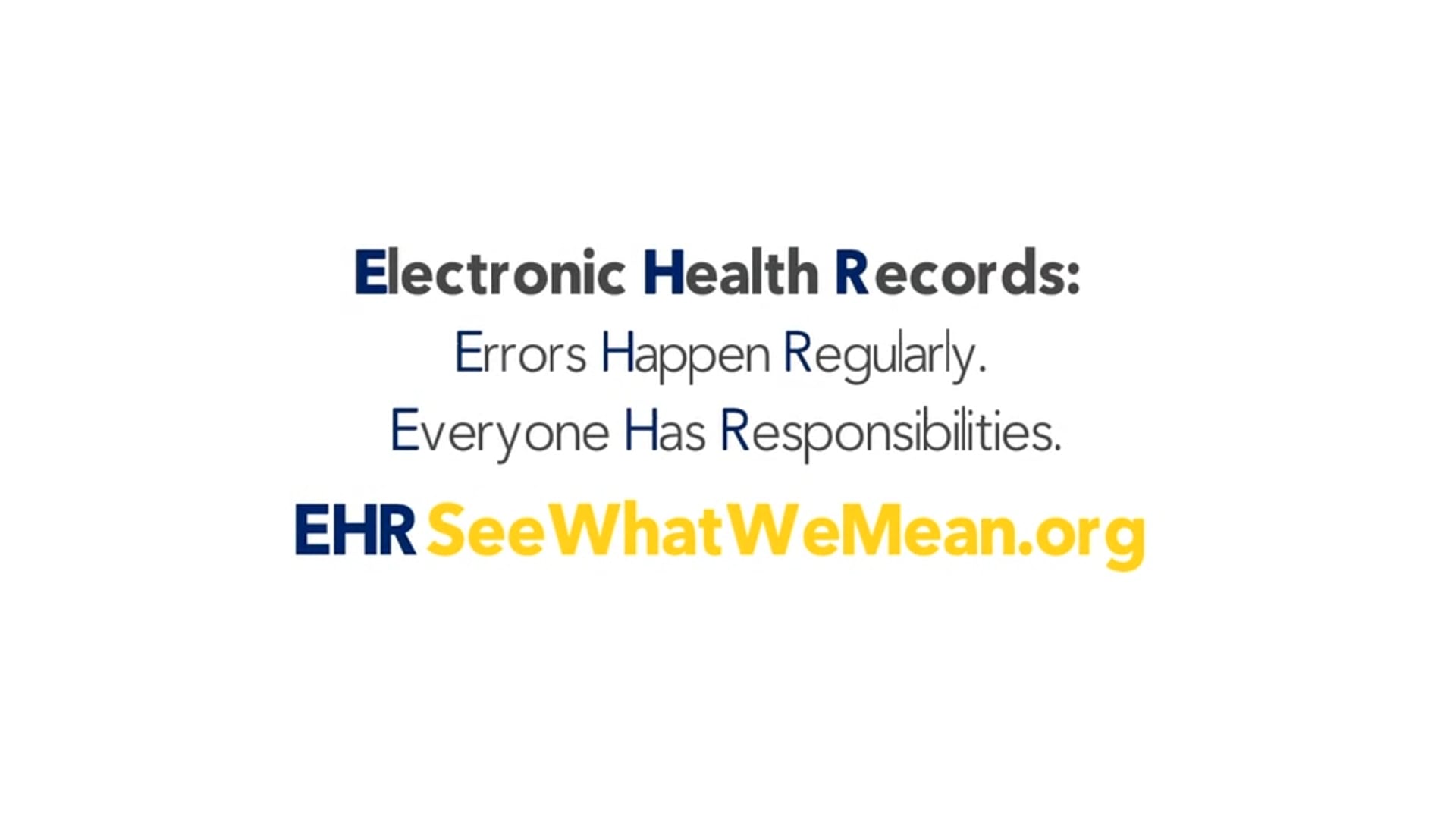 03:21
Chances are, you've heard of an electronic health record, or EHR. Over the past 10 years, the vast majority of healthcare providers in the United States have implemented this technology to use in caring for their patients. EHRs have benefited us in many ways and hold tremendous promise. Given their widespread use, this technology now plays a significant role in the routine delivery of health care.
Less understood outside the healthcare profession, however, is that EHRs have introduced new kinds of risks to the safety and quality of care, due to serious challenges with EHR usability, or the effectiveness and efficiency of using the technology. These well documented issues can lead to clinician burnout and errors that directly impact patient safety.
In response, the MedStar Health National Center for Human Factors in Healthcare teamed up with the American Medical Association to show what we mean by sharing rare videos of real and simulated EHR usability challenges. We believe improving EHR design, development, and implementation to eliminate known patient safety risks and make them easier to use is the responsibility of healthcare providers, EHR vendors, policymakers, and patients, all working together. Learn more in the video above.
Electronic Health Records
EHRs are used to document symptoms, view test results, order medicines, and more. They are intended to increase healthcare efficiency, quality, and safety by replacing paper records that lack EHRs' portability and potential to spark transformative innovation.
In February 2009, the Health Information Technology for Economic and Clinical Health (HITECH) Act became federal law. This historic act and the $40 billion investment backing it prompted the near universal adoption and meaningful use of EHRs. Over the past decade, more than 90 percent of hospitals and most physician practices have adopted an EHR.
Errors Happen Regularly
While there are clear benefits to EHR technology, significant challenges still exist a decade later—and one of the biggest is poor usability resulting from software design, development, and implementation that does not seamlessly support clinicians' needs. As with other technology, such as a smartphone, usability of EHRs relates to ease of use and the desire for an experience that's efficient, effective, and satisfying.
However, poor usability of EHRs in areas including data entry, visual display, and workflow support is common. These challenges contribute to clinician frustration and burnout—and, importantly, risk patient safety and satisfaction. For example, a confusing visual display of medications could lead to a clinician ordering the wrong medication. Or an automatic refresh of the screen that reorders a patient list could result in the clinician selecting the wrong record to view.
These types of errors happen regularly. View our "Videos" section to see what we mean when it comes to EHR usability challenges and solutions.
Videos
Everyone Has Responsibilities
One major barrier to advancing EHR usability and safety is the lack of awareness about these challenges among policymakers and the general public. Another is the common practice of including clauses in contracts between EHR vendors and healthcare providers that prevent healthcare organizations from sharing specific information about the EHR product.
Potential patient harm and clinician burnout are serious consequences of usability issues that must be overcome. Patients, policymakers, EHR vendors, and healthcare providers can all take respective actions to address these issues. In fact, the 21st Century Cures Act of 2016 has already invited action from the Office of the National Coordinator for Health Information Technology to ensure greater EHR transparency.
Everyone has responsibilities—visit our "Calls to Action" section to learn what you can do.
Calls to Action
Disclaimer: To duplicate real life experience, the videos on this website display representative interactions that physicians may have with electronic health record systems. The American Medical Association ("AMA") does not endorse any third party organizations, products, services, or opinions that may be displayed in the videos. The video content is provided for educational and informational purposes only.